Happy Christmas Eve!
As 2020 is coming to an end, 2021 releases are being announced every day and more recently I have been seeing more and more cover reveals! I am a sucker for a beautiful covers, so I thought I would share some of the best covers that I have seen be announced so far. 2021 is looking to be a great year for covers and I can't wait to see what else is to come.
* Disclaimer: The links I have included to purchase the books from are affiliate links for the BookShop and I receive a small commission if you purchase anything through this link *

Curses by Lish McBride
Merit Cravan refused to fulfill her obligation to marry a prince, leading to a fairy godling's curse. She will be forced to live as a beast forever, unless she agrees to marry a man of her mother's choosing before her eighteenth birthday.
Tevin Dumont has always been a pawn in his family's cons. The prettiest boy in a big family, his job is to tempt naïve rich girls to abandon their engagements, unless their parents agree to pay him off. But after his mother runs afoul of the beast, she decides to trade Tevin for her own freedom.
Now, Tevin and Merit have agreed that he can pay off his mother's debt by using his con-artist skills to help Merit find the best match . . . but what if the best match is Tevin himself?
I think the green background is so beautiful against the gold mirror, then with the slashes across her face revealing a beast – so beautiful! Curses by Lish McBride comes out in July 2021.
Lore by Alexandra Bracken
Every seven years, the Agon begins. As punishment for a past rebellion, nine Greek gods are forced to walk the earth as mortals, hunted by the descendants of ancient bloodlines, all eager to kill a god and seize their divine power and immortality.
Long ago, Lore Perseous fled that brutal world in the wake of her family's sadistic murder by a rival line, turning her back on the hunt's promises of eternal glory. For years she's pushed away any thought of revenge against the man–now a god–responsible for their deaths.
Yet as the next hunt dawns over New York City, two participants seek out her help: Castor, a childhood friend of Lore believed long dead, and a gravely wounded Athena, among the last of the original gods.
The goddess offers an alliance against their mutual enemy and, at last, a way for Lore to leave the Agon behind forever. But Lore's decision to bind her fate to Athena's and rejoin the hunt will come at a deadly cost–and still may not be enough to stop the rise of a new god with the power to bring humanity to its knees.
I honestly didn't have this one on my radar until a couple of days ago and now I am obsessed. The beautiful cover makes me want to book even more! I've never read a book by Alexandra Bracken but I think I will pick this one up.
You can preorder Lore: here
Love is a Revolution by Renée Watson
When Nala Robertson reluctantly agrees to attend an open mic night for her cousin-sister-friend Imani's birthday, she finds herself falling in instant love with Tye Brown, the MC. He's perfect, except . . . Tye is an activist and is spending the summer putting on events for the community when Nala would rather watch movies and try out the new seasonal flavors at the local creamery. In order to impress Tye, Nala tells a few tiny lies to have enough in common with him. As they spend more time together, sharing more of themselves, some of those lies get harder to keep up. As Nala falls deeper into keeping up her lies and into love, she'll learn all the ways love is hard, and how self-love is revolutionary.
In Love Is a Revolution, plus size girls are beautiful and get the attention of the hot guys, the popular girl clique is not shallow but has strong convictions and substance, and the ultimate love story is not only about romance but about how to show radical love to the people in your life, including to yourself.
I was fortunate enough to receive an arc of this book from Bloomsbury! I am yet to read it but I am in love with the boldness on the cover. I really love seeing the representation within the novel on the cover too.
You can preorder Love is a Revolution: here
Malice by Heather Walter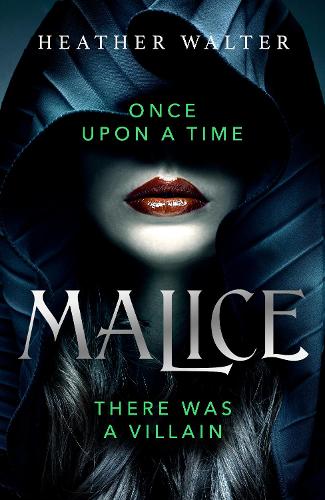 Once upon a time, there was a wicked fairy who, in an act of vengeance, cursed a line of princesses to die. A curse that could only be broken by true love's kiss.
You've heard this before, haven't you? The handsome prince. The happily-ever-after.
Utter nonsense.
Let me tell you, no one in Briar actually cares about what happens to its princesses. Not the way they care about their jewels and elaborate parties and charm-granting elixirs. I thought I didn't care, either.
Until I met her.
Princess Aurora. The last heir to Briar's throne. Kind. Gracious. The future queen her realm needs. One who isn't bothered that I am Alyce, the Dark Grace, abhorred and feared for the mysterious dark magic that runs in my veins. Humiliated and shamed by the same nobles who pay me to bottle hexes and then brand me a monster. Aurora says I should be proud of my gifts. That she . . . cares for me. Even though it was a power like mine that was responsible for her curse.
But with less than a year until that curse will kill her, any future I might see with Aurora is swiftly disintegrating—and she can't stand to kiss yet another insipid prince. I want to help her. If my power began her curse, perhaps it's what can lift it. Perhaps, together, we could forge a new world.
Nonsense again.
Because we all know how this story ends, don't we? Aurora is the beautiful princess. And I—
I am the villain.
I prefer the UK cover for this one, which is actually a rare thing for me because normally I prefer the US ones! Malice is from the villains perspective and I think in this cover you can really tell that it's a villain and it's very cold and dark which I think is quite fitting.

You can preorder Malice: here
This Poison Heart by Kalynn Bayron
Darkness blooms in bestselling author Kalynn Bayron's new contemporary fantasy about a girl with a unique and deadly power.
Briseis has a gift: she can grow plants from tiny seeds to rich blooms with a single touch.
When Briseis's aunt dies and wills her a dilapidated estate in rural New York, Bri and her parents decide to leave Brooklyn behind for the summer. Hopefully there, surrounded by plants and flowers, Bri will finally learn to control her gift. But their new home is sinister in ways they could never have imagined–it comes with a specific set of instructions, an old-school apothecary, and a walled garden filled with the deadliest botanicals in the world that can only be entered by those who share Bri's unique family lineage.
When strangers begin to arrive on their doorstep, asking for tinctures and elixirs, Bri learns she has a surprising talent for creating them. One of the visitors is Marie, a mysterious young woman who Bri befriends, only to find that Marie is keeping dark secrets about the history of the estate and its surrounding community. There is more to Bri's sudden inheritance than she could have imagined, and she is determined to uncover it . . . until a nefarious group comes after her in search of a rare and dangerous immortality elixir. Up against a centuries-old curse and the deadliest plant on earth, Bri must harness her gift to protect herself and her family.
From the bestselling author of Cinderella Is Dead comes another inspiring and deeply compelling story about a young woman with the power to conquer the dark forces descending around her.
I love, love, love this cover. The nature vibes with the orange in her top and the gold in the title – so beautiful and so satisfying to my brain!
You can preorder This Poison Heart: here
Off The Record by Camryn Garrett
Ever since seventeen-year-old Josie Wright can remember, writing has been her identity, the thing that grounds her when everything else is a garbage fire. So when she wins a contest to write a celebrity profile for Deep Focus magazine, she's equal parts excited and scared, but also ready. She's got this.
Soon Josie is jetting off on a multi-city tour, rubbing elbows with sparkly celebrities, frenetic handlers, stone-faced producers, and eccentric stylists. She even finds herself catching feelings for the subject of her profile, dazzling young newcomer Marius Canet. Josie's world is expanding so rapidly, she doesn't know whether she's flying or falling. But when a young actress lets her in on a terrible secret, the answer is clear: she's in over her head.
One woman's account leads to another and another. Josie wants to expose the man responsible, but she's reluctant to speak up, unsure if this is her story to tell. What if she lets down the women who have entrusted her with their stories? What if this ends her writing career before it even begins? There are so many reasons not to go ahead, but if Josie doesn't step up, who will?
From the author of Full Disclosure, this is a moving testament to the #MeToo movement, and all the ways women stand up for each other.
I don't know whether it's because the shade of pink used on this cover is my favourite colour, but I love it so much. There's so much happening in this cover, but in such a subtle way – I think its perfect.
You can preorder Off the Record: here
I can't wait to see what other amazing covers we get in 2021, already there's an overwhelming amount! Do you have any favourites already?